TOONWORKS Co.,Ltd. (hereinafter referred to as "TOONWORKS") started the new series "The Strongest Angel Evolutionary Tale" on "LINE Manga".
This work is set in a world where demons and angels fight against each other, and the main character aims to become the strongest.
The series has become a hot topic of conversation, ranking No. 5 overall (No. 2 in the male category of the overall ranking), No. 1 in the new arrivals ranking, and No. 1 in the science fiction fantasy category when it was first exclusively serialized on "LINE Manga".
Please enjoy exhilarating battle scenes on "LINE Manga".
TOONWORKS will continue to develop new works and provide content that will bring joy to as many people as possible.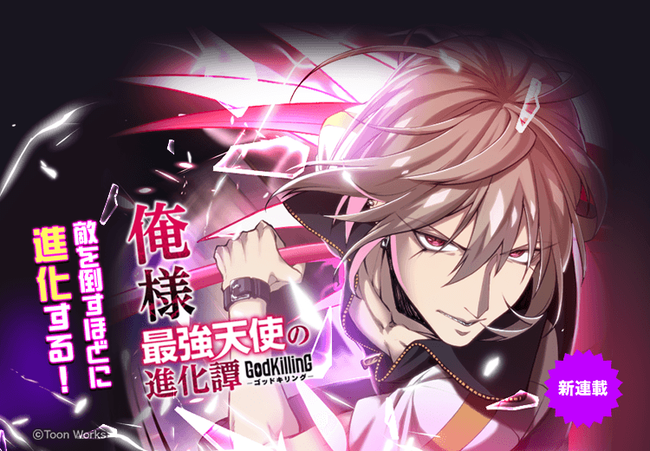 "The Strongest Angel Evolutionary Tale"
Art:Koran Katsudon
Story :Taro Hirai
Storyboard:Yutsuki
Planning:TOONWORKS
Cooperation:LINKVERY
<Summary>
Lucifer, an angel who likes fighting and hates losing, spends his day fighting. During a battle against the Demon King, he was suddenly betrayed by his companions, and he fell into the present age, hundreds of years later, where demons and humans coexist. Lucifer, who has lost everything including his powers, evolves by copying the abilities of his defeated enemies. Realizing that the more he defeats his enemies, the stronger he becomes, he confronts powerful enemies. A peerless action fantasy!
▼Read on "LINE Manga"
https://manga.line.me/product/periodic?id=S126739
©ToonWorks powered LinkVery
About TOONWORKS
TOONWORKS was established with the aim of providing content that can be conveyed to a wider audience. As leisure time increases due to changes in society, content is becoming more fragmented and at the same time more concentrated on large content. With the establishment of a webtoon company, we grab the opportunity to create high quality webtoon content that has never been done before.
At the same time, the way we work, our values, and our sense of ethics are changing dramatically. We will continue to provide new values to our staff, creators, users, and society through our content and new company.